Electronic mask
This important function allows limiting the laser output for certain areas. The intensity of the laser beam can be adjusted in a range from 0% to 100% for each individual shape created with the editor. This makes it possible to correctly protect specific scanning areas such as the auditorium or sectors with optical equipment (video beamers, cameras). The big advantage of this mask, which is configured in the projector, compared to a mask generated in the show controller is the fact that programming errors which may occur when a show is edited will not disable the mask.
Color correction
Via the integrated color correction, the color channels can be adjusted from 0% to 100% with a resolution of 24 bit. With "White" the power for each laser source is calculated and corresponds to True White D65. With the function "Advanced" delays of the diodes can be set with a resolution of 5.2 µs.
DGC Mapping
Digital Geometic Correction
With Digital Geometric Correction, the projection image can be easily corrected and used for projectors or show controllers without integrated DGC. Sixteen different geometrical correction setups are available. For each setup the DGC Input and Output can be adjusted individually and the laser image can be corrected for projection on uncommen projection surfaces. For example: The projection surface is uneven and consists of two panels positioned at an angle. One half of the DGC Input has to be displayed on the left side of the uneven projection surface and the other half on the right side. First you choose which area of the DGC Input you want to display on the projection surface. Then, you correct the DGC Output so that the projection of the image is displayed correctly on the area of the projection surface.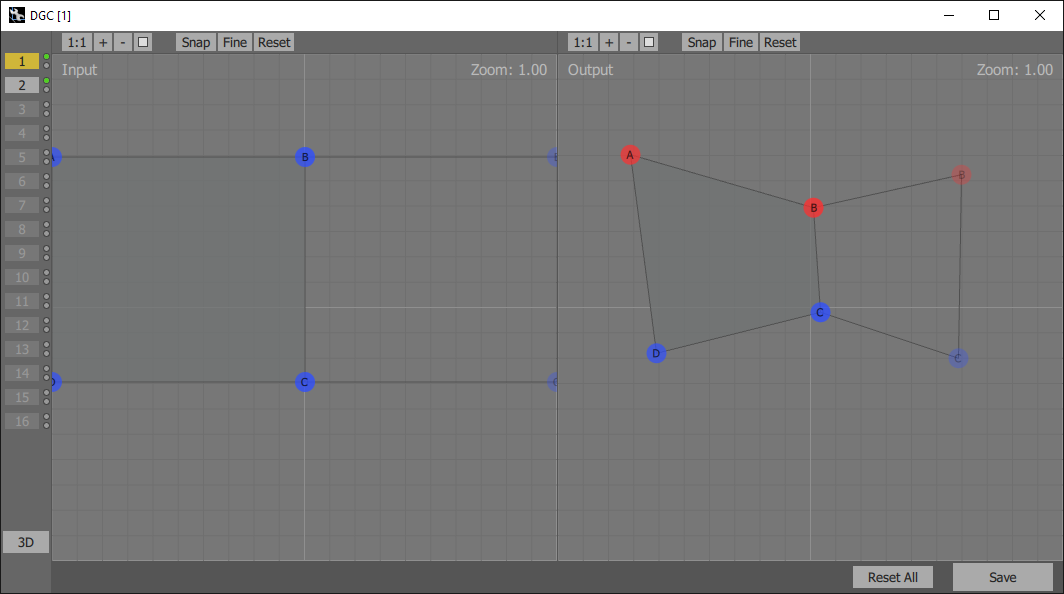 Der Laser Disable Button ist ein spezieller Sicherheitsknopf um die Laserausgabe über Ethernet zu unterbrechen. Der Laser Disable Button kann einfach in das Netzwerk integriert und konfiguriert werden. Der Status von bis zu vier verschiedenen Laser Disable Buttons kann über die Einstellungen überwacht werden.